Report from the Sanctuary Caravan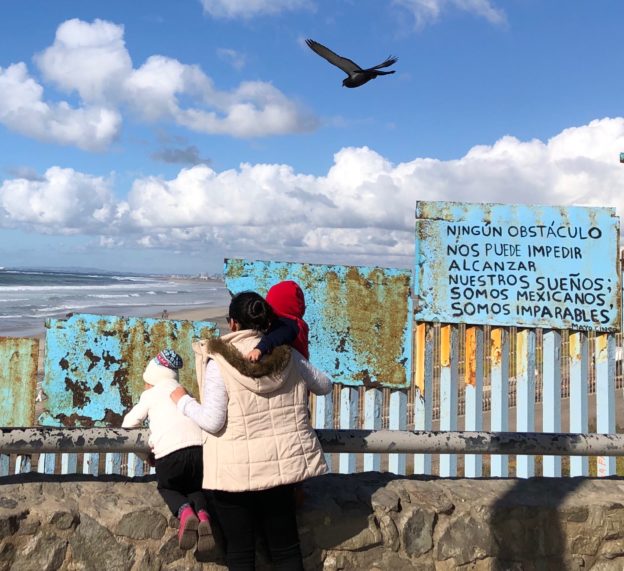 My daughter Djuna Schamus, her friend Hannah Wilton, and I went to volunteer with the Sanctuary Caravan in Tijuana at the beginning of January. This is her report.

Hi all,
I recently arrived back in New York City after spending a week in Tijuana/San Diego with my mom, Nancy, and my friend, Hannah. After receiving training from members of the Sanctuary Caravan (SC), we began volunteering in Tijuana, where SC is standing in solidarity with members of the Central American Exodus waiting at the border by supporting them throughout each stage of this inherently unjust immigration process. The humanitarian crisis in Tijuana, created by the current administration's prohibiting asylum-seekers from presenting themselves at the U.S. border promptly and directly, is immense and in urgent need of redress. During our week at the border, we witnessed a fraction of the injustices our migrant friends are facing on a daily basis.They, our migrant friends, are leading the fight for their own freedom, and, in doing so, are at the forefront of the fight for a more just world: a world without exclusionary borders, where the dignity and safety of all, rather than racism, U.S. imperialism, and the violent structure of nation-states, guide policy and our futures more broadly.

Today, there are thousands of asylum-seekers living in temporary encampments and shelters across the city, many of whom made this thousands-of-miles-long journey on foot. They are exerting their right to migrate and their right, as enshrined by U.S. and international law, to seek asylum. According to these laws, the first step that an asylum-seeker must take is to cross the border and present themselves to immigration officials. Until recently, those seeking protections could just walk into the U.S. and promptly present their claims for asylum; currently, however, those pursuing asylum are forced to wait in a state of uncertainty and neglect on the Mexican side of the border.

A new, unofficial system of entry has emerged in Tijuana, known as "metering," whereby groups of ten asylum-seekers are each given a unique number and told to return to a public plaza next to the San Ysidro border crossing the day that their number is called. They will not be allowed to cross until their numbers are called. This list, and the ten names corresponding to each number, are managed by fellow migrants in conjunction with Mexican immigration officials.
Not only is this system of metering illegal, but it also places individuals in a difficult and vulnerable position, as they do not know exactly when their number is going to be reached or how many numbers are going to be called on a given day (this number ranges from 0 – 80 people per day). Furthermore, El Barretal, which is the largest shelter in Tijuana and currently houses around 1,000 individuals, is a 15-mile trip to the San Ysidro border crossing, compounding the obstacles created by this system of entry.
When someone's number is announced by coordinators at the plaza, they must arrive at the border, with all of their belongings, prepared to cross. People wait in a line along one side of the plaza before being driven by Mexican immigration officers across the U.S. border, where they will likely be placed in detention centers and potentially separated from family members.
While always following the lead of our migrant friends, members of the Sanctuary Caravan assist people through this process at every step. The aim of this work is to empower our friends as much as possible under this inherently unjust immigration system.

This effort includes explaining, to the best of our ability, what one should expect going forward, giving rides to those whose numbers have been called, providing a welcoming resting place for people scheduled to present themselves at the border, helping individuals fill out immigration paperwork, and prep for the "Credible Fear Interview" that they will request from a U.S. immigration official shortly after arriving in the States.; this re-traumatizing interview, which aims to assess whether people seeking protection can demonstrate a "credible fear" of harm if they return to their home countries, will determine whether or not they can continue with the asylum application process.

During our time in Tijuana, while we continued to make the Sanctuary Caravan our principal organizing hub, because neither Hannah nor I speak Spanish, we ended up being additionally useful as volunteers with World Central Kitchen, an organization of chefs responding to hunger and poverty. At a closed-down restaurant in Tijuana, with the radio continuously blasting dance music, a group of chefs, volunteers, and local workers cook two fresh meals for 1,500 people daily, delivering the food to shelters scattered throughout the city. After our first day of washing dishes and chopping vegetables, Hannah and I, accompanying a longer-term volunteer, travelled 15 miles to the dinner service at El Barretal encampment.

The over 1,000 people in Barrtetal live in densely situated tents, mostly set under the open sky. We were immediately welcomed by residents, who have come to anticipate the meals' arrivals each day. With assistance from El Barretal residents, we distributed penne bolognese and salad to over 800 people (many of whom were women and small children, for whom men in the front of the line always gave up their spots). After dinner, we walked through the camp—through tents, groups of playing children, and friends congregating around a small television playing Alice in Wonderland—finding ourselves at a Three King's Day ceremony, where residents prayed and sang alongside a visiting pastor.

While many of people's basic needs are being met at El Barretal—with food from World Central Kitchen, medical care from Doctors Without Borders, and aid from UNICEF— life in a de facto refugee camp is precarious and untenable. And, of course, there is something deeply problematic with having the "answer" to an issue, largely created and exacerbated by U.S. foreign policy and immigration policy being an influx of nonprofits and aid-based relief.

In addition to visiting El Barretal, and along with other members of the Sanctuary Caravan, we spent time at the second-largest shelter housing members of the Central American exodus, located in a warehouse beside the Benito Juarez sports complex close to the border. Immediately following our arrival in in San Diego/Tijuana, Mexican authorities issued an eviction notice to the roughly 100 residents of Benito Juarez, dispatching dozens of Mexican federal police to the shelter and commencing a drawn out struggle over the residents' right to remain. There was a days-long standoff between residents and organizers working in solidarity with them, on the one side, and the Mexican government and police, on the other. Answering the call of migrant friends living at Benito Juarez, volunteers with the Sanctuary Caravan and other organizers on the ground camped out on the street in front of the shelter when the threat of immediate eviction was at its height: at one point the police, dressed in riot gear, were no longer allowing water into the shelter or permitting residents to use the port-o-potties, leaving those inside without sanitary toilet options. In the middle of the night, organizers, harnessing their privilege as U.S. passport holders, acted as witnesses to the Benito Juarez residents' struggle to remain in place. Although an unfortunate reality, it is likely that having American citizens present on the scene prevented a forceful removal of those living in the Benito Juarez shelter. A few days after we left, the final residents agreed to leave the location, many of them transferred to El Barretal.

In addition to working in solidarity with those in Tijuana, volunteers with the Sanctuary Caravan are working to expand their support for people being released from detention in San Diego and leaving for other parts of the country, as, in many ways the arduous asylum process just begins after they have finally made it onto U.S. soil. It is important to note that every person going through this process will be promptly be put into deportation proceedings; their asylum application is their defense against deportation, but the threat of deportation is ever-present.
The convoluted and dehumanizing system of ICE check-ins, immigration hearing dates, and the reality of living with uncertain and precarious status can continue for years, and it is imperative that people feel welcomed, supported, and empowered throughout the entirety of this process. Undergirding this work are the convictions that the freedom of movement/migration is a human right, that no one should be deported, that ICE be abolished (and not merely replaced by an analogous entity), and that we should strive for a future without exclusionary borders.

In the last few weeks, and thanks to your contributions, we were able to raise $4,175 for the Sanctuary Caravan movement. Thank you again for supporting this work, and for standing in solidarity with those leading this fight for a more just world.

With love,
Djuna
January 15, 2019
---