Remembering Eddie Baba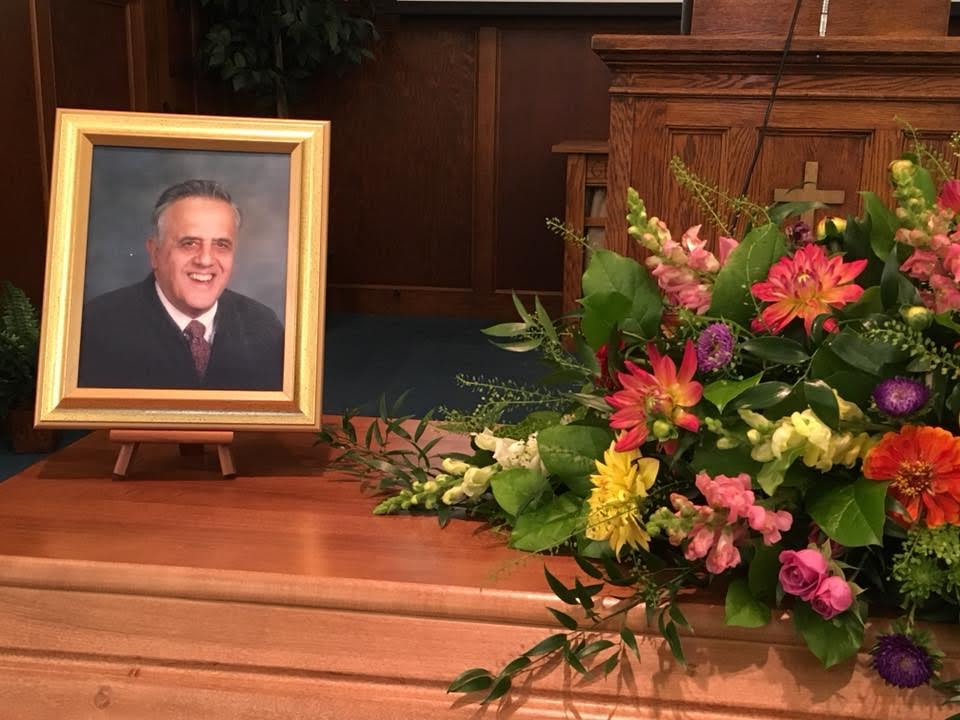 "Words from the Family": Eulogy delivered on 23 July 2018
I want to thank Pastor Calvin Choi and the congregation of the Watertown Evangelical Church for welcoming us all here today to honor the memory of my father, Ed Kricorian. I want also to thank them for the warm and loving community that they have provided to my parents over the years.
Armenian Genocide survivors founded this church in 1937. It was then called the Armenian Brethren Church, and my grandparents Leo and Mary Kricorian were among its founding members. My father and his siblings grew up in this church, as did my sister and I. My grandfather's funeral service took place here in 1962, and my grandmother's in 1985. And we are here again today to say farewell to my father.
My father started driving the delivery truck for his father's Lincoln Market when he was ten years old and could barely see over the steering wheel. He loved driving, and it was a hardship to him this past year when his poor health meant that he could no longer be behind the wheel. He never admitted that he wouldn't drive again; he just said, "I'm not driving right now." When he was no longer steady on his feet, we bought him a top-of-the-line walker, and after he got over his initial reluctance about using it in public, he called it the Lamborghini and offered passersby a chance to take it for a spin for a mere dollar. When he needed a transport chair, he called it the Cadillac Eldorado. And when a few months ago, he needed a mobility scooter, this he called the Rolls Royce.
In May my father was hospitalized for five days, and when he came home he was unable to walk. The physical therapist told him that if he worked hard enough and could walk down the hall to the elevator, and then walk through the garage to get to his Rolls, he could take it for a spin. This was Eddie's goal, and despite the pain in his legs and his shortness of breath, he was determined that he would drive the Rolls again.
And he did. On the Thursday before he died, my dad took the Rolls out, with Calvin trotting at his side, and they came over to the church to see the finally finished new steps, steps that were sadly impossible for him to climb. My dad wanted more than anything to come inside this church again. He said to Calvin, "Do you think some of the guys could help me up the stairs?" Calvin said, "Sure, Eddie. And if they can't, I'll put you on my back and carry you up myself."
My father had been praying for God to take him home since last October. He said he was ready to go, but I think he wasn't quite ready until this month. He wanted to celebrate his 60th wedding anniversary with my mother, whose devotion he treasured and whom he adored. They marked that milestone in April. And he wanted the reconstruction of the church steps to be completed so his service could be held in this sanctuary. He had said on more than one occasion that he prayed he could go to sleep, and then open his eyes in heaven. On Friday, July 13, he fell asleep in his recliner and that's exactly what happened.
We all miss him—his kindness, his stubbornness, his harmonica playing, his funny stories, and the messages he wrote for us on bananas and melons. But he's not suffering any more, and as the Armenian proverb puts it,
The water goes, the sand remains; the person dies, the memory stays.
–
Nancy Kricorian
July 27, 2018
---