The Sublime and The Ridiculous
The Button Bush in our yard adored the torrential rains we had earlier this month and burst into bloom. Many pollinators, including a wide variety of butterflies, were attracted to its spherical blossoms. I watched the American Robins nesting on the front porch produce two sets of babies, from eggs to hatchlings to nestlings to fledglings, and then the mother laid eggs once again. After weeks of frequent parental coming and going with worms being stuffed into bright yellow gapes, when the second group of nestlings finally fledged I felt the pang of the proverbial empty nest.

On New York Primary Election Day in June, while I was in Manhattan helping my daughter Djuna find an apartment before she starts NYU Law School at the end of August, we paused for a snack at Essex Market. As we sat at a café table in the airy mezzanine, mayoral candidate Andrew Yang showed up to work the room, trying to inspire voters and posing for photos with people. Earlier in in the week Yang had made some awful comments about mentally ill and homeless people, and I was never a fan of his political positions even before that. I definitely did not want to interact with him, but nonetheless he came up to our table as I was studiously trying to avoid him. I didn't even realize he was behind me when Djuna took the photo that was subsequently posted to Twitter by my spouse James. The Tweet went viral.

Here we are in the middle of the summer of 2021 living through the third or fourth wave of a global pandemic, watching and experiencing extreme weather events caused by climate catastrophe, and some of us engaging in raging vaccination and anti-vaccination battles in our communities and in our families. But I hope that in this challenging moment you are basically okay, and that you can find time to observe the fragile beauty around us and to laugh at the sometimes painfully absurd contradictions of our world.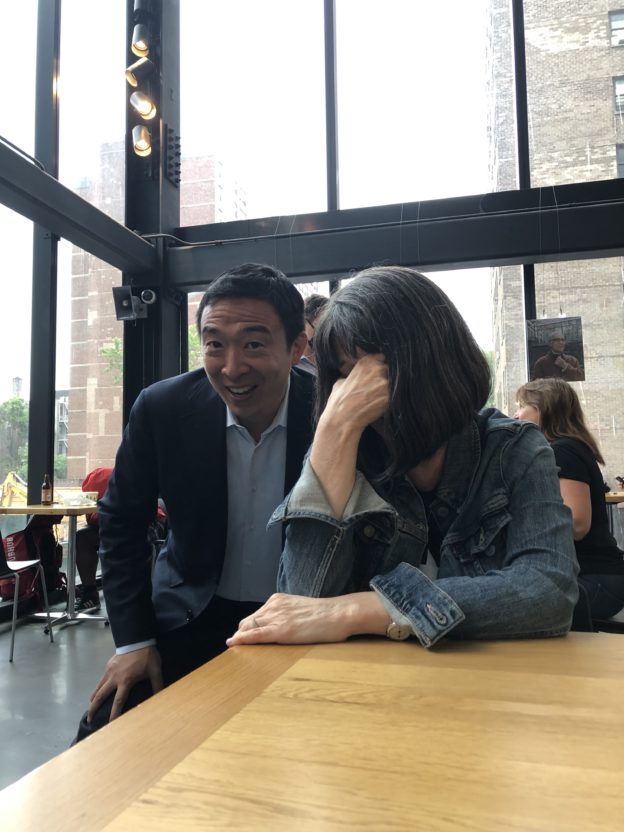 Nancy Kricorian
New York, July 2021
July 31, 2021
---