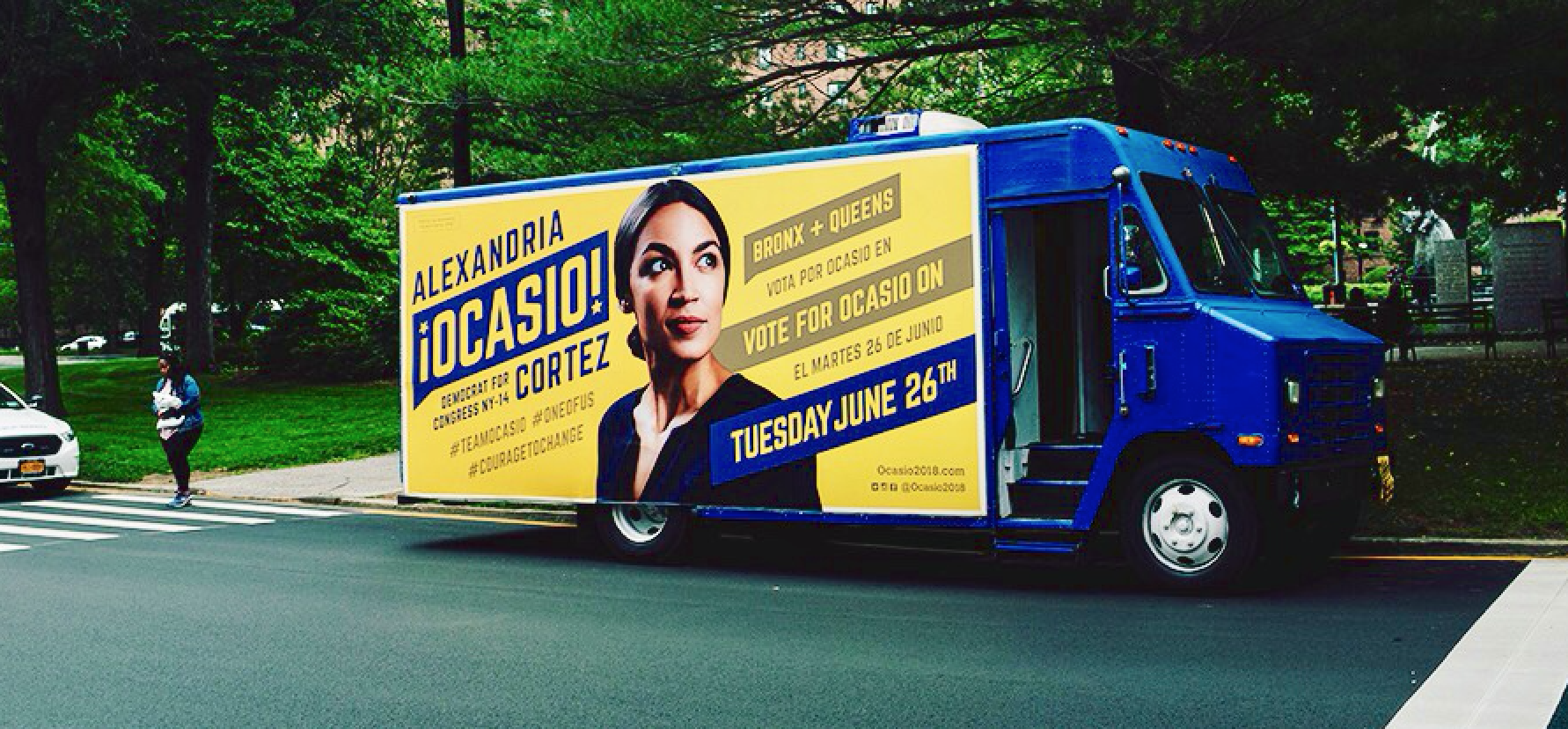 Last week 28-year-old Alexandria Ocasio-Cortez defeated ten-term incumbent Joe Crowley in the Democratic primary for New York's 14th Congressional District in what TIME Magazine called the biggest political upset of 2018. Ocasio-Cortez had the support of the Democratic Socialists of America, the Justice Democrats, Brand New Congress, and The Intercept (cited by a CNN commentator as a decisive factor!). In an otherwise DISMAL political scene this is a HUGE victory. She ran on a platform calling for Medicare for All, the abolition of ICE, and she denounced the killings of protesters in Gaza as a massacre. I'm awestruck. I also loved reading about the revolutionary posters designed for her campaign.
If you're looking for a natural pick-me-up, watch Ocasio-Cortez's campaign video, or watch CNN's clip from election night when she realizes that she has won! "We met the [Queens Democratic] machine with a MOVEMENT!" she said. (Note the dude right behind her wearing a Democratic Socialists of America T-shirt.) Or watch her answer Stephen Colbert's question, "What is Democratic Socialism?" I think I've watched that last video six times—whenever I'm in despair about the state of the world, I just watch it again.
In response to Ocasio-Cortez's victory and those of other young progressives, Michelle Goldberg, in a piece entitled The Millennial Socialists Are Coming, opined, "These young socialists see themselves as building the world they want to live in decades in the future rather than just scrambling to avert catastrophe in the present."
And while the political situation in this country is growing grimmer by the minute, I'm not going to remind you of the details right now as I'm making a concerted effort to do what Mr. Rogers's mother told him, "Look for the helpers." (As an aside here, I haven't yet seen the Mr. Rogers documentary, Won't You Be My Neighbor, but it's on the top of my movie going list.)
While I've read at least forty articles about the traumatic, criminal, and unconscionable (there are no adjectives dire enough for what they're doing!) consequences of our government's "zero-tolerance policy" at the border, resulting in the abduction of thousands of migrant children, the article I will highlight is about a courageous Honduran woman who is organizing mothers inside an ICE detention center in El Paso, Texas. While the U.S. has a long history of child snatching, I was inspired by this story about librarians and academics who used their library science skills to map the locations of the facilities where separated migrant kids are possibly being held as a way to help parents find their children. I also aspire to have the courage this woman did when Border Patrol Agents boarded the Greyhound Bus she was on. She realized that because they were not within 100 miles of the U.S. border, the agents did not have the right to question everyone on the bus about their immigration status. She stood up and started shouting, "You don't have to show them sh*t!" She then used Google translate to find out how to say it in Spanish.
People are standing up to the Trump Administration's cruelties. Members of The United Methodist Church have charged Methodist Jeff Sessions with child abuse over the family separation policy. Members of the Democratic Socialists of America DC Metro Chapter protested the Secretary of Homeland Security while she was dining in a Mexican restaurant. "If kids don't eat in peace, you don't eat in peace," the protesters shouted. Nearly 600 women were arrested in D.C. last week during protests against Trump's immigration policies. The protesters chanted "Abolish ICE" and their hashtag was #WomenDisobey.
This is a time to be disobedient, fierce, loud, and as creative as these young Palestinian dancers in Gaza. We're heading to the Socialism 2018 Conference in Chicago this coming weekend to meet up with several thousand people who feel the same way. I'll let you know how it goes.
P.S. This year's Smithsonian Folklife Festival in D.C. turns a spotlight on Armenia. Check out the Feasting schedule, as well as my friend Liana Aghajanian's piece about Armenian food.
Nancy Kricorian
New York City 2018
July 3, 2018