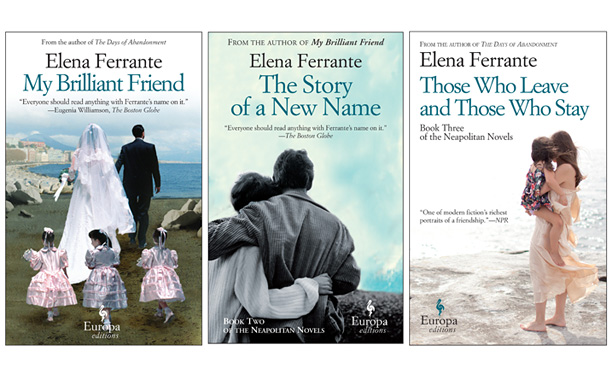 True confession: in ten days, I have read five novels by Elena Ferrante. I picked up a copy of MY BRILLIANT FRIEND, Book One of Ferrante's Neapolitan novels, at a local bookstore, and tore through the pages in a frenzy. We are introduced to a pair of girls from Naples, Elena and Lila, whose friendship spans from the late forties until the first decade of the 21st century. Elena is our first-person narrator and not always reliable guide, who upon learning that her friend has disappeared at the age of 66, goes back to the first days of their complex, fierce and competitive friendship as young girls. We are plunged into a post-war, working class neighborhood in Naples where life is lived with great intensity and passion. It is also a violent world—men beat their wives, parents beat their children, and children kick their dogs. Elena and Lila are what we would now call "gifted" children. They are determined to use their intelligence and drive to lift themselves out of poverty and to escape from the drudgery and hardship they see in their mothers' lives.
Who is Elena Ferrante? She writes under a pseudonym, believing that her books should be able to assert themselves without her "patronage," and has been called "the literary sensation nobody knows." Many critics, including James Wood in The New Yorker and Rachel Donadio in The New York Review of Books, have been singing her praises. She recently did a Q & A via email with The New York Times.
Her prose, translated from the Italian by Ann Goldstein, is not showy at the level of "craft." What make the books compelling, even riveting, are the unflinching descriptions of negative emotions and impulses that women experience and usually leave unsaid: terror, fury, jealousy, self-hatred, and more. Ferrante is above all a great storyteller, and there is a narrative drive that makes her work propulsive and addictive.
I'm not going to give a plot summary, but suffice it to say that on the last page MY BRILLIANT FRIEND, Elena describes a shocking scene at the wedding of her best friend Lila. It is a cliffhanger. (As an aside, the term 'cliffhanger" originates from Thomas Hardy's 1873 serialized novel A PAIR OF BLUE EYES. A character is hanging from a cliff at the end of one of the chapters, and readers at the time wouldn't know what happened to the young man until the subsequent chapter ran in the next month's paper.)
I scurried out to buy Books Two and Three of Ferrante's series, which I galloped through in quick succession. The fourth and final book was published in Italian towards the end of 2014, and the English translation will appear stateside in September 2015. How could I possibly wait until then? I was suffering from Ferrante Fever. (Yes—there is even a Twitter hashtag #FerranteFever.) I dashed out to the bookstore and bought two of Ferrante's earlier, shorter novels, THE DAYS OF ABANDONMENT and THE LOST DAUGHTER, which I inhaled within 48 hours. These earlier works are much shorter and less complex in terms of plot and characters than the Neapolitan novels—they feel almost like studies on the themes that are taken up on the broader canvas of MY BRILLIANT FRIEND. I just ordered a copy of TROUBLING LOVE, the one available Ferrante translation I haven't read, and I'm counting the days until the publication of Book Four of the Neapolitan novels, THE STORY OF THE LOST CHILD.
Nancy Kricorian
February 21, 2015