past events
Monday
April 3, 2023
7:00 pm
We Are All Armenian book launch at Columbia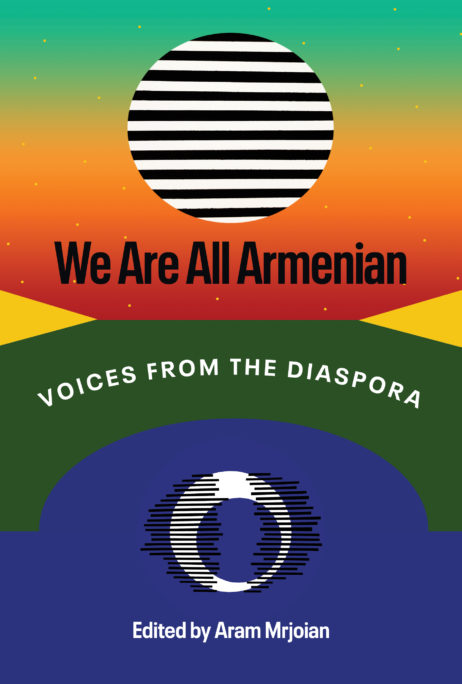 Please join us at 7 p.m. on Monday, April 3 in Room CO3 in the Columbia School of Social Work (1255 Amsterdam Avenue at 121st Street), for a panel discussion with Aram Mrjoian, the editor of the anthology We Are All Armenian, a groundbreaking collection of personal essays exploring the multilayered realities of life in the Armenian diaspora. Aram will be in conversation with contributors Chris Bohjalian, Nancy Kricorian, Scout Tufankjian, and Hrag Vartanian. The event is co-sponsored by The Columbia University Armenian Center, The Armenian Society of Columbia University, the International Armenian Literary Alliance (IALA), NAASR, and The Zohrab Information Center.
---
Wednesday
November 20, 2019
7:00 pm
Reclaiming Collective Memories in Contemporary Turkey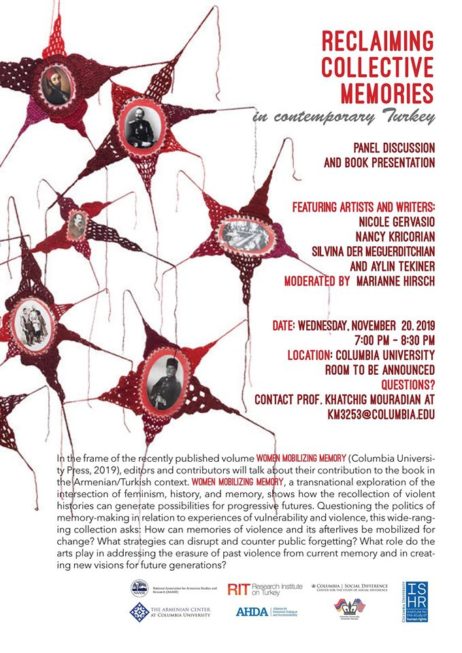 Join us for a discussion on "Reclaiming Collective Memories in Contemporary Turkey" featuring five artists, writers, and scholars.
Marianne Hirsch teaches Comparative Literature and Gender Studies at Columbia. She is a fellow of the American Academy of Arts and Sciences and a former President of the Modern Language Association of America. Hirsch's work combines feminist theory with memory studies, particularly the transmission of memories of violence across generations. Her recent books include The Generation of Postmemory: Writing and Visual Culture After the Holocaust and the forthcoming School Photos in Liquid Time: Archives of Possibility, co-authored with Leo Spitzer. She is one of the co-founders of Columbia's Center for the Study of Social Difference and its global initiative Women Creating Change. She is also one of six co-editors of Women Mobilizing Memory.
Nancy Kricorian is a writer and organizer who lives in New York. She was born and raised in the Armenian community of Watertown, Massachusetts, where she attended the Armenian Brethren Church and Watertown Public Schools. She earned an MFA in Poetry from Columbia University, and her poetry, essays, and fiction have been widely published. She is the author of three novels focused on post-Genocide Armenian Diaspora experience–ZABELLE (1998), DREAMS OF BREAD AND FIRE (2003), and ALL THE LIGHT THERE WAS (2013). She is currently at work on her fourth novel, which is about an Armenian family in Beirut during the Lebanese Civil War.
Silvina Der-Meguerditchian, a visual artist, is the granddaughter of Armenian immigrants to Argentina who lives and works in Berlin. Reconstruction of the past and the building of archives are a red thread in her artistic research. Since 2010 she has been the Artistic Director of Houshamadyan, a project to reconstruct Ottoman Armenian town and village life. She participated in "Armenity," the Pavilion awarded with the Golden Lion at the 56th Venice Bienniale for the best national participation. Her collective project "Grandchildren, new geographies of belonging" took place at the DEPO Cultural Center in Istanbul in 2015. She has worked with Women Mobilizing Memory since 2014. She is represented by Kalfayan Galleries in Athens.
Nicole Gervasio is the ACLS/Mellon Public Fellow and Festival Programs Manager at PEN America, a nonprofit that works at the intersection of human rights and the literary arts. She received her Ph.D. in English and Comparative Literature from Columbia University. Her dissertation examines how politically conscious novelists from the Global South manipulate national archives to reconstruct histories of collective violence that authoritarian regimes have systematically repressed. Her work has appeared in differences: A Journal of Feminist Cultural Criticism, Modern Language Studies, and, now, Women Mobilizing Memory.
Aylin Tekiner is a New York / Istanbul based visual artist, writer, and activist. She received her PhD in Cultural studies at Ankara University in Turkey in 2008. Her book "Ataturk Statues: Cult, Aesthetics, and Politics" is published in Turkey in 2010. Her artwork is focused on forgotten and unspeakable tragedies, trauma, and tolerance. During her post-doc at Yale University School of Drama in 2015, she wrote and performed an auto biographical play that uses shadow theatre techniques. Aylin has been working on a graphic novel of the play as well. She is a member of Collective Memory Platform, which was formed by the families of 28 victims of the political murders in modern Turkey, and a member of the Research Institute on Turkey.
Location: Room 417, Mathematics Building
Columbia University
Click here for updates- https://www.facebook.com/events/2234902719954644/ or https://www.socialdifference.columbia.edu/events-1/2019/10/15/reclaiming-collective-memories-in-contemporary-turkey
Questions? Email Prof. Khatchig Mouradian at km3253@columbia.edu
CO-SPONSORS
Alliance for Historical Dialogue and Accountability
Columbia University Armenian Center
Columbia University Center for the Study of Social Differences
Institute for the Study of Human Rights
National Association for Armenian Studies and Research – NAASR Research Institute on Turkey
---
Monday
February 4, 2019
12:00 pm
New Works from Beloved Favorites: Nancy Kricorian, Nuar Alsadir, Bina Sharif, Susan Abulhawa
First Mondays Series at Performance Space New York
Curated by Sarah Schulman
February 4, 2019
6:30 p.m.
Performance Space New York
150 First Avenue, Fourth Floor
New York, NY 10009
RSVP here.
---
Thursday
October 18, 2018
7:00 pm
Author Night at the St. Gregory the Enlightener Armenian Church
Hosted by The Women's Guild
7 p.m.
1131 North Street – White Plains, NY 10605
Meet and greet followed by a presentation of various works.
Books will be available for purchase and signing
Light refreshments will be served
---
Wednesday
April 20, 2016
7:00 pm
Extraordinary Redition
A panel on Extraordinary Rendition, an anthology that brings together the work of sixty-five prominent writers to examine America's culpability in the denial of human rights and dignity to Palestinians in Israel/Palestine and beyond. The event will include a panel of several of the contributors to the anthology.
Book Culture
536 W 112th St (Between Amsterdam & Broadway)
7pm
Full event information here.
---
Tuesday
January 12, 2016
6:30 pm
Tenement Talks
A conversation about The Hundred-Year Walk, a new book by Dawn Anahid MacKeen, award-winning investigative journalist. New Yorker staff writer Raffi Khatchadourian joins Dawn in conversation and Nancy Kricorian, author of All the Light There Was, introduces the evening.
The Tenement Museum
103 Orchard Street (at the corner of Delancey)
Doors open at 6pm & seating is first-come, first-served.
Full information here.
---
Friday
December 4, 2015
7:00 pm
Extraordinary Rendition: American Writers on Palestine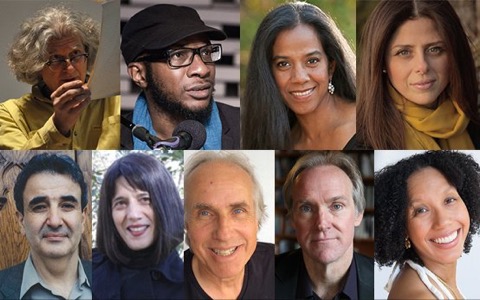 Writers Sinan Antoon, Nathalie Handal, Lawrence Joseph, Nancy Kricorian, Rickey Laurentiis, Jason Schneiderman, Tom Sleigh, and Tiphanie Yanique will come together for the book launch of the new anthology Extraordinary Rendition: American Writers on Palestine with editor Ru Freeman.
The Center for Fiction
17 E. 47th Street, NYC
RSVP here.
---
Monday
November 9, 2015
6:00 pm
Art and Memory: Looking Backward and Moving Forward on the Centennial of the Armenian Genocide
Panel discussion with Silvina Der Meguerditchian, Diana Markosian and Nancy Kricorian, moderated by Hrag Vartanian
Cantor Center
36 E 8th Street, NYC, Theater 101
New York University
Full information here.
---
Saturday
October 10, 2015
9:30 am
Detroit Book and Author Festival
Presented by the Armenian Genocide Centennial Committee of Greater Detroit, in partnership with the Armenian Research Center, University of Michigan
University of Michigan, Kochoff Hall, 4901 Evergreen Road, Dearborn, Michigan
Day-long panel of Armenian American authors, including: Chris Bohjalian (Sandcastle Girls); Nancy Kricorian (All the Light There Was); Aline Ohanesian (Orhan's Inheritance); Marian Mesrobian MacCurdy (Sacred Justice); Scout Tufankjian (There is Only the Earth); and Matthew Karanian (Historic Armenia After 100 Years). Also appearing: Christopher Atamian and Robert George Koolakian.
The event concludes on Saturday evening with a gala banquet at the Pine Lake Country Club, 3300 Pine Lake Road, West Bloomfield Township, Michigan. This is ticketed event ($60 donation). Dinner reservation required.
---
Wednesday
May 6, 2015
7:30 pm
Armenian Genocide: A Dark Paradigm
The Pen Festival of World Voices Presents
Armenian Genocide: A Dark Paradigm
featuring Peter Balakian, Eric Bogosian, Maureen Freely, Nancy Kricorian, Robert Jay Lifton, Ronald Suny, and Ragip Zarakolu
at SVA Theater – Silas Theater
333 West 23rd Street
.
---
Sunday
November 16, 2014
1:00 pm
Saint James Women's Guild Presents Nancy Kricorian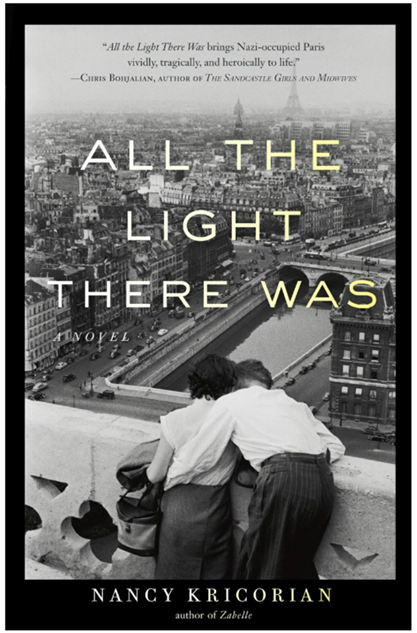 Talk, Book Signing, Light Lunch
Saint James Armenian Church Hall
834 Pepper Avenue, Richmond, VA
---
Friday
November 7, 2014
7:00 pm
Slideshow, reading and signing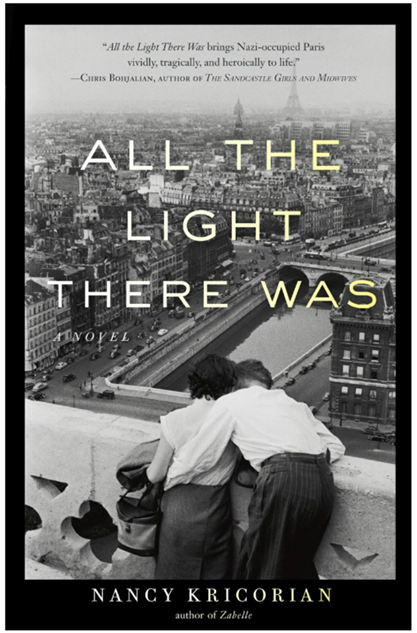 The Harvard Coop Bookstore
1400 Massachusetts Avenue
Cambridge, MA 02238
---
Friday
October 17, 2014
11:00 am
Free Coffee and Books with She Writes Press Authors
Keurig Pop-up Store
915 Broadway
New York City
---
Saturday
October 11, 2014
5:00 pm
Researching World War II Paris for An Historical Novel
Roeliff Jansen Community Library
9091 Route 22
Hillsdale, New York
(518) 325-4101
---
Thursday
November 7, 2013
6:30 pm
BEIRUT NOW Urban Planning Panel
Middle East & Middle Eastern American Center
The Graduate Center, CUNY
365 Fifth Avenue, at 34th Street
New York City
memeac@gc.cuny.edu
(212) 817-7571
---
Saturday
October 5, 2013
7:00 pm
"Inheriting the Light": In conversation with Diana Der Hovanessian and Nancy Kricorian
Armenian Library and Museum of America
65 Main Street
Watertown, Massachusetts
617-926-2563
---
Thursday
October 3, 2013
7:00 pm
Robbins Library
Robbins Library Community Room
700 Massachusetts Avenue
Arlington, Massachusetts
781-316-3200
---
Friday
September 20, 2013
8:00 pm
Saint Thomas Armenian Church
174 Essex Drive
Tenafly, New Jersey
201-567-5446
---
Wednesday
June 26, 2013
7:30 pm
AGBU Toronto
Alex Manoogian Cultural Center
930 Progress Avenue
Toronto, Ontario M1G 3T5
Canada
---
Wednesday
May 15, 2013
7:30 pm
American Library in Paris
10, rue General Camou
75007, Paris
+33 (01) 53 59 12 60
---
Wednesday
May 1, 2013
8:00 pm
AGBU Montreal
AGBU Montreal Center
Dervishian Hall
805 Manoogian Street
Montreal, Quebec
---
Saturday
April 20, 2013
4:00 pm
Spotty Dog Books
440 Warren Street
Hudson, New York 12534
518-671-6006
---
Tuesday
April 9, 2013
7:00 pm
Brookline Booksmith
279 Harvard Street
Brookline, Massachusetts
(617) 566-6660
---
Sunday
April 7, 2013
2:30 pm
St. James Cultural Center
465 Mount Auburn Street
Watertown, Massachusetts
(617) 923-8860
---
Wednesday
March 27, 2013
7:00 pm
Armenian General Benvolent Union
55 East 59th Street
New York, NY 10022
(212) 319-6383
---
Thursday
March 21, 2013
6:00 pm
Book Passage
1 Ferry Building, San Francisco CA
(415) 835-1020
---
Wednesday
March 20, 2013
7:00 pm
Glendale Public Library
 222 E. Harvard St.
Glendale, California
(818) 937-7817
---
Tuesday
March 19, 2013
7:00 pm
Book Soup
8818 West Sunset Boulevard
Los Angeles, California
(310) 659-3110
---
Wednesday
March 13, 2013
7:00 pm
Barnes & Noble Upper West Side
 2289 Broadway at 82nd Street
New York, New York
(212) 362-8835
---
Monday
March 11, 2013
6:30 pm
Ethnicity and Literature: Aram Veeser Moderates a Conversation between Nancy Kricorian and Aris Janigian
The CUNY Graduate Center, Room C197
365 Fifth Avenue at 34th Street
New York City
---
Saturday
September 29, 2012
noon
Armenians and Progressive Politics Conference
Panel IV: Emergence of Social Movements, NGOs, and the Rise of a New Identity Politics
Speakers: Lara Aharonian, Mamikon Hovsepian, Larisa Minasyan
Moderator: Nancy Kricorian
Columbia University
Hamilton Hall, Room 717, 1130 Amsterdam Avenue
---