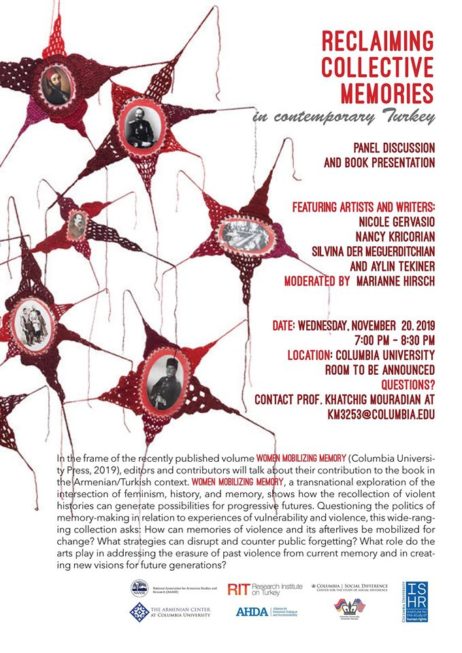 Join us for a discussion on "Reclaiming Collective Memories in Contemporary Turkey" featuring five artists, writers, and scholars.
Marianne Hirsch teaches Comparative Literature and Gender Studies at Columbia. She is a fellow of the American Academy of Arts and Sciences and a former President of the Modern Language Association of America. Hirsch's work combines feminist theory with memory studies, particularly the transmission of memories of violence across generations. Her recent books include The Generation of Postmemory: Writing and Visual Culture After the Holocaust and the forthcoming School Photos in Liquid Time: Archives of Possibility, co-authored with Leo Spitzer. She is one of the co-founders of Columbia's Center for the Study of Social Difference and its global initiative Women Creating Change. She is also one of six co-editors of Women Mobilizing Memory.
Nancy Kricorian is a writer and organizer who lives in New York. She was born and raised in the Armenian community of Watertown, Massachusetts, where she attended the Armenian Brethren Church and Watertown Public Schools. She earned an MFA in Poetry from Columbia University, and her poetry, essays, and fiction have been widely published. She is the author of three novels focused on post-Genocide Armenian Diaspora experience–ZABELLE (1998), DREAMS OF BREAD AND FIRE (2003), and ALL THE LIGHT THERE WAS (2013). She is currently at work on her fourth novel, which is about an Armenian family in Beirut during the Lebanese Civil War.
Silvina Der-Meguerditchian, a visual artist, is the granddaughter of Armenian immigrants to Argentina who lives and works in Berlin. Reconstruction of the past and the building of archives are a red thread in her artistic research. Since 2010 she has been the Artistic Director of Houshamadyan, a project to reconstruct Ottoman Armenian town and village life. She participated in "Armenity," the Pavilion awarded with the Golden Lion at the 56th Venice Bienniale for the best national participation. Her collective project "Grandchildren, new geographies of belonging" took place at the DEPO Cultural Center in Istanbul in 2015. She has worked with Women Mobilizing Memory since 2014. She is represented by Kalfayan Galleries in Athens.
Nicole Gervasio is the ACLS/Mellon Public Fellow and Festival Programs Manager at PEN America, a nonprofit that works at the intersection of human rights and the literary arts. She received her Ph.D. in English and Comparative Literature from Columbia University. Her dissertation examines how politically conscious novelists from the Global South manipulate national archives to reconstruct histories of collective violence that authoritarian regimes have systematically repressed. Her work has appeared in differences: A Journal of Feminist Cultural Criticism, Modern Language Studies, and, now, Women Mobilizing Memory.
Aylin Tekiner is a New York / Istanbul based visual artist, writer, and activist. She received her PhD in Cultural studies at Ankara University in Turkey in 2008. Her book "Ataturk Statues: Cult, Aesthetics, and Politics" is published in Turkey in 2010. Her artwork is focused on forgotten and unspeakable tragedies, trauma, and tolerance. During her post-doc at Yale University School of Drama in 2015, she wrote and performed an auto biographical play that uses shadow theatre techniques. Aylin has been working on a graphic novel of the play as well. She is a member of Collective Memory Platform, which was formed by the families of 28 victims of the political murders in modern Turkey, and a member of the Research Institute on Turkey.
Location: Room 417, Mathematics Building
Columbia University
Click here for updates- https://www.facebook.com/events/2234902719954644/ or https://www.socialdifference.columbia.edu/events-1/2019/10/15/reclaiming-collective-memories-in-contemporary-turkey
Questions? Email Prof. Khatchig Mouradian at km3253@columbia.edu
CO-SPONSORS
Alliance for Historical Dialogue and Accountability
Columbia University Armenian Center
Columbia University Center for the Study of Social Differences
Institute for the Study of Human Rights
National Association for Armenian Studies and Research – NAASR Research Institute on Turkey
November 20, 2019