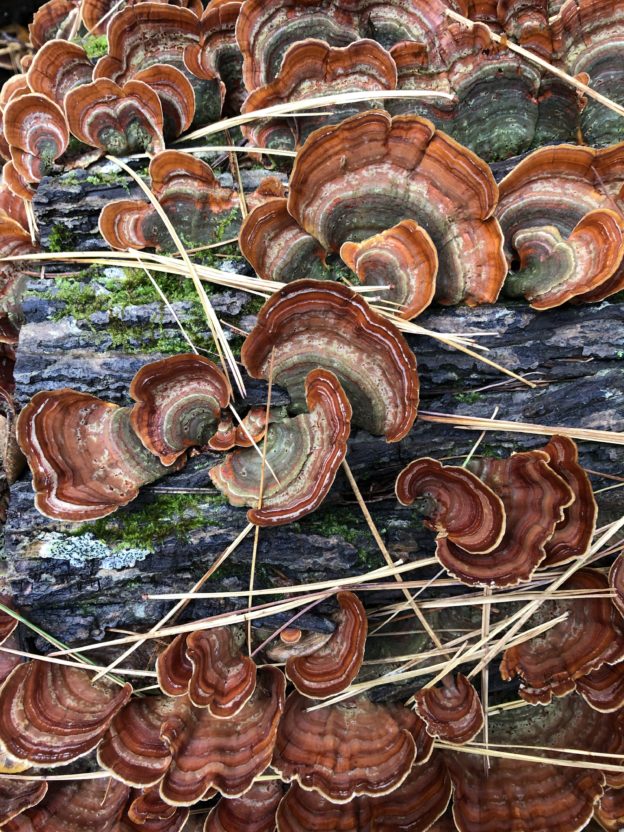 In the middle of the summer our friend Jon was in the forest behind our house working on the trails. When he emerged from woods, he told us, "You have about 200 pounds of Chanterelle mushrooms back there." I had no idea what Chanterelles looked like and had never foraged for mushrooms, so we did nothing about this potential bounty.
In September, while on a birding walk in Central Park, I ran into someone I hadn't seen since we were both graduate students at Columbia. Turns out that she also had a house in Columbia County, and when the subject of mushrooms came up, she told me she often foraged for Chanterelles. We made a date for her to come by for a walk in the woods, and on the trail she pointed out the few that remained. We sauteed them with olive oil and garlic, and they were delicious.
This was just the beginning. I bought a mushroom field guide, read several books about fungi, the best of which was Merlin Sheldrake's fascinating Entangled Life. I watched some tutorials about mushrooms on YouTube, the most helpful of them by Yellow Elanor, also known as Rachel Zoller and who can be found on Instagram. I was excited to learn about fungi and mushrooms—after years of studying flowers and birds, it was a whole new area of the natural world to explore. Mushrooms are not in the plant kingdom, nor are they in the animal kingdom, although they are closer to animals than to plants. I was soon fascinated by the underground mycorrhizal (fungal) networks that facilitate communication between trees (see Suzanne Simard's Finding the Mother Tree for more on her groundbreaking work on this topic).
Armed with an Opinel Mushroom Knife, a jeweler's loupe, and some waxed paper and mesh bags, I started going on solo forays in the woods. Every day I walked the trails, discovering many kinds of mushrooms, all of them interesting, some of them edible. I learned about the difference between Turkey Tail, False Turkey Tail, Violet-Toothed Polypore, and Lenzites Betulina (Gilled Polypore), all of which look similar on the top side, but which can be distinguished by their various underside surfaces. I found tiny Cinnabar Chanterelles and slimy Yellow-Centered Waxy Caps, also known as Hygrophorus Flavodiscus.
I joined the New York Mycological Society, which was co-founded by the composer John Cage in 1962. I learned an old maxim, "There are bold foragers and old foragers, but no old, bold foragers." I read a newspaper account about a woman in Rhode Island who had found a delicious-looking mushroom in her backyard and decided to eat it, even though she "didn't know exactly what it was." She ended up with a kidney transplant. After our experience with the Chanterelles, which were identified by much more knowledgeable people, I was determined that we would eat only mushrooms that I was absolutely, unequivocally sure were edible. I bought a book called How to Forage for Mushrooms Without Dying, and headed back into the woods.
In October, I found a patch of funnel-shaped black mushrooms at the foot of a tree near the vernal pond on the north side of our property. I knew from consulting the field guides that Black Trumpets had no poisonous look-alikes, and these were definitely Black Trumpets. We cooked and ate them and they were delightful.
Recently, I listened to a fascinating For the Wild Podcast interview with mycologist Dr. Patricia Kaishian, who discussed, among other topics, "queer mycology," the International Congress of Armenian Mycologists (ICAM), and the war in Artsakh. Patty's Twitter handle is queendom_fungi, evoking the idea of the non-binary and queer world of mushrooms she talked about in the interview, and I love the idea of a Magical Mushroom Queendom.
There are still mushrooms to see in the Hudson Valley in winter, but far fewer than in the more temperate seasons. In the next few months, I will be reading and studying more about fungi in preparation for spring forays. I'll keep you posted!
Nancy Kricorian
P.S. Check out this piece about The Fly Agaric Mushroom and its associations with Santa Claus and Christmas, as well as this wonderful video Santa is a Psychedelic Mushroom.
January 8, 2022