I am proud to have been part of a global coalition that drafted, signed and disseminated this statement in support of LGBT rights in Armenia. You can read the full text and the list of signatories below. (And you can watch an interview about the issue that I did via Skype with Civilnet Armenia TV.)       N.K.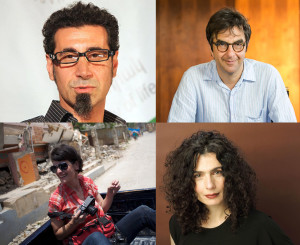 More than two-dozen prominent Armenians in the Diaspora have signed a statement supporting equality and justice for all in Armenia. Among the signatories are poet Diana Der Hovanessian, filmmaker Atom Egoyan, actor and producer Arsinée Khanjian, musician Serge Tankian, and photographer Scout Tufankjian. This array of Armenian artists, intellectuals and professionals felt moved to release this statement in the light of anti-gay legislation that was recently proposed in Yerevan. "This anti-gay legislation is part of a disturbing pattern of intolerance for marginalized people and opposition voices in Armenia," said publisher Veken Gueyikian. Writer Nancy Agabian said, "People of conscience must not stand by as our LGBT cousins are targeted and demonized." The statement represents their collective commitment to human rights and to Armenia's nascent civil society movements.
For more background see:
Armenian Gay and Lesbian Alliance Statement Against Armenian Police Proposal
Amnesty Documents Widespread harassment of Armenia's LGBT Community
Human Rights Watch Letter to Armenian President Regarding Proposed Anti-LGBT Legislation
Armenian translation here.
STATEMENT
"In response to reports of draft 'anti-propaganda' legislation in Armenia, modeled on Russia's recently passed and widely condemned bill, we, the undersigned members of the global Armenian community, say such attempts to codify anti-gay prejudice into law are contrary to our values. We believe in dignity, equality and the right to self-expression for all people regardless of religion, sexual orientation, gender, or race."
SIGNATORIES:
Nancy Agabian
Mika Artyan
Arlene Avakian
Peter Balakian
Anthony Barsamian
David Barsamian
Eve Beglarian
Chris Bohjalian
Melissa Boyajian
Diana Der Hovanessian
Atom Egoyan
Dahlia Elsayed
Houry Geudelekian
Veken Gueyikian
Nonny Hogrogian
Aris Janigian
Nina Katchadourian
Nishan Kazazian
Arsinee Khanjian
David Kherdian
Nancy Kricorian
Micheline Aharonian Marcom
Neery Melkonian
Arthur Nersesian
Joan Aghajanian Quinn
Aram Saroyan
Serj Tankian
Scout Tufankjian
Hrag Vartanian
November 1, 2013