The Women's March and the Long Struggle Ahead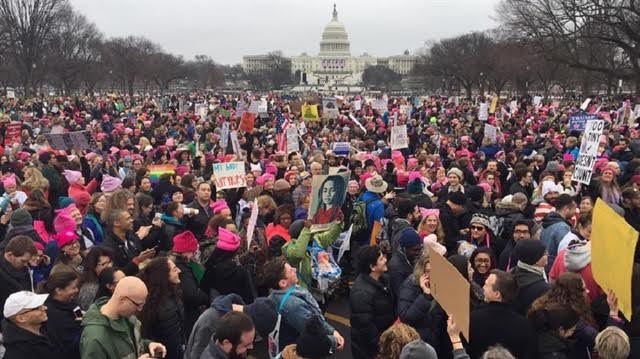 To be part of a crowd of over half-a-million people is an experience both intimate and abstractly large. Three moments during the speeches at the Women's March on Washington, D.C. particularly held that balance for me. Sophie Cruz, a six-year-old girl whose parents are undocumented immigrants from Oaxaca, Mexico, moved us all to tears with her beautiful and elegant words, spoken in English and then in Spanish, saying, "Let us fight with love, faith, and courage, so that our families will not be destroyed." African-American civil rights activist and revolutionary Angela Davis told the assembled, "We dedicate ourselves to collective resistance." Linda Sarsour, an organizer from New York City and one of the national co-chairs of the march, declared herself "unapologetically Muslim-American, unapologetically Palestinian-American, unapologetically from Brooklyn, New York." She went on to tell us, "If you want to know if you are going the right way, follow women of color, sisters and brothers. We know where to go, because when we fight for justice, we fight for it for all people, for all our communities."
It was an exhilarating, exhausting, and empowering experience to take to the streets with hundreds of thousands of women, men, and children who are determined to fight against the Trump Administration and its assaults on women, the disabled, immigrants, the indigenous, LGBTQ people, our public educational system, our environment, and our civil and human rights. I couldn't help but remember other mass mobilizations I have joined. In 2003 millions of people took to the streets around the globe in attempt to prevent the Iraq War. George W. Bush dismissed us then, saying he didn't pay much attention to "focus groups." We were unable to stop the Iraq War, which resulted in the deaths of hundreds of thousands of Iraqis, destabilized the entire region, and led eventually to the horrible carnage and destruction we have been witnessing in Syria. Marches and rallies are important sources of strength and inspiration—but that strength must be used for the long struggles that follow.
I was pleased to learn from newspaper reports that the huge defiant crowds only steps from his seat of power enraged Donald Trump, and I have to believe that if we are able to harness the passion and determination of so many people taking political action for the first time, that we will be able to protect our most vulnerable individuals and organizations. If we succeed, our cities will become sanctuaries for the undocumented, our states will enact legislation mitigating the harms coming from Washington, and our mass civil disobedience against gas pipelines and other projects that threaten our air and water will engulf and stop corporate pillage. We will wrest control of the Democratic Party from the neoliberal establishment that backed the disastrous candidacy of Hillary Clinton, and put accountable elected officials into office. But I have to be honest. I'm afraid, and I'm unsure of exactly where best to focus my energies when the attacks on the values and institutions I care about are coming not daily, but hourly.
For now I join the ranks of my friends in Palestine, where Trump's collaboration with the Israeli right wing will cause untold suffering. I join my friends in Armenia, who struggle every day against the kind of kleptocracy Trump now installs here in the U.S. I join my friends in Turkey, where harshly repressive measures are targeting journalists and academics, and in its Kurdish region, where violence has destroyed much of the architectural heritage of Diyarbakir's Sur and where many communities have been subject to state terror.
I join a global community that struggles against tyranny and amplifies the humane in the human. As American writer and activist Grace Paley put it: "The only recognizable feature of hope is action." I hope, because I act.
Nancy Kricorian
January 2017
New York City
Written for Agos Turkish-Armenian weekly
https://web.archive.org/web/20170126065707/http://www.agos.com.tr/tr/yazi/17561/trumptan-sonra-umut-ve-eylem
Nancy Kricorian
February 7, 2017
---